This beautiful mixed media photo frame has been made using a variety of techniques and materials. This is a fantastic mosaic project and a lovely keepsake. The handmade polymer clay tiles allow you to express yourself through words and quotes, while the heart and flower shapes add lovely detail.
SUPPLIES & MATERIALS
Handmade Polymer Clay Tile (see below)
White colour pack - this will give you a variety of white tiles
Materials for Making Handmade Polymer Clay Tiles
Polymer clay - For this project I have used Premo Accents Copper
A variety of stamps to create flowers, love hearts, words and textured tiles (detailed in instructions)
STEPS
1. Make Your Handmade Polymer Clay Tiles
Condition your polymer clay, use guides to roll it out to a consistent thickness, if you are unsure of how to do or you are making tiles for the first time, this click on this link.
The following techniques have been used to create the flowers, hearts, word and texture tiles.
Flowers 🌸 and Hearts ♥️
Press your stamp into the clay, you can use talcum powder as a releasing agent. We have a large selection of stamps available including flower, leaf, butterfly, stars and hearts. Click here to view the range.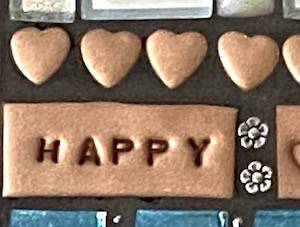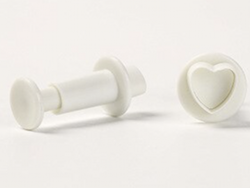 To get more information on decorating your flowers we have detailed tutorial available, click here to read this.
Word tiles 🌟
The word tiles and quote tiles used in this project where created by pressing individual mini letters into the clay. They are a great way to personalise your mosaics, you could even use them to create a 'Made by' stamp. The letters and symbols come joined and can be separated easily. Position them in the guide to press your letters in a straight line.
Textured Tiles 🤩
Wooden embellishments have been used to create a flower design and the 'Blessed' tile.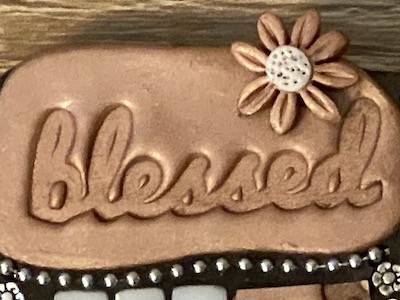 I have rubbed some Pearl Ex Micro Pearl Powder into the tiles before baking to give them a beautiful shimmer.
Once you have enough tiles bake them in your oven
Bake your clay pieces on an oven-proof glass or metal surface at the baking temperature and time listed on the package. DO NOT USE MICROWAVE OVEN. DO NOT exceed the recommended baking temperature or baking time. Carefully remove from oven and allow to cool. Baking should be completed by an adult.
Baking Time:
275 °F (130 °C)
30 minutes per 1/4 inch (6 mm) thickness
While many items used with polymer clay may be found in our home kitchens, once used for polymer clay, they should not be used for food purposes.
Once cooled, cut your baked tiles to size using a sharp blade. To get the correct size, turn the tiles over and place a line on the back of the tile where you need to cut. Cut the tile face down along the line you have marked.
2. Lay Your Tiles
As this is a mixed media project you have a lot of freedom in laying your tiles. I have played with the positioning of the tiles to avoid cutting any of the glass tiles. The metal beads and the ball chain are great for filling gaps, as to is the handmade polymer clay tiles as they can be cut to size. Use a clear drying PVA adhesive to adhere the tiles.
When the tiles have been laid allow the adhesive to cure for 24 hours before applying the grout. Run you hand over the tiles to ensure they are all firmly adhered before grouting. If any are loose, remove them and re-adhere.
3. Grouting Time
I was undecided regarding the grout colour and used the following technique to help me decide.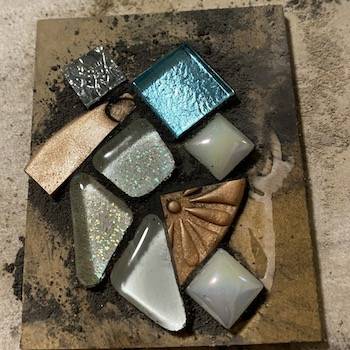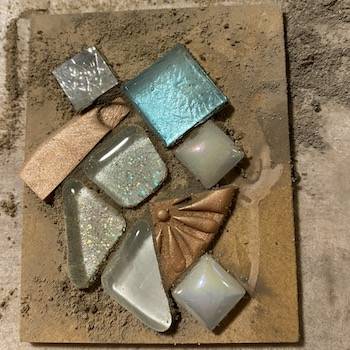 Create a test panel with tiles from your mosaic. Sprinkle powered grout over the top to give you an idea of what the finished mosaic will look like. In this instance I choose the black grout.
As the handmade tiles will absorb some of the grout colour make sure you protect them by covering them up, I used blue tac to do this. This is a fiddly process but well worth the time, another option is to paint the frame with acrylic paint prior to tiling to avoid grouting.
I made the grout thicker than normal to help protect the handmade tiles and cleaned the grout up with baby wipes rather than water. A small paint brush and sharp pointed tool to get the grout into hard to reach areas.